10/09/2019
Parking
Sweden
515
---
Landvetter Parkering - Super easy, fast and safe parking!
About Landvetter Parkering
Landvetter Parkering
is a Swedish business that started in 1991 by Sven-Olof Askelius after media highlighted how vulnerable the cars were for theft and vandalism on airport parking. Sven-Olof, the first owner of Landvetter Parkering AB, came to an idea to provide a safer and faster way to park your vehicle while you're travelling.
The business was growing for over 26 years and services have been developing ever since. Customers are relying on the amazing features list and also services which provide a great experience without doubt and in no-time.
Challenge
During the years the website has gotten relaunched and redesigned, and has been kept up-to-date and on top of technological trends. After these redesign efforts, it was very important to create an experience for customers which will assure them that the business has kept its focus on a great customer experience and on providing super easy, fast but even importantly - safer service that users can trust and rely on to.
With the competition growing fast during the years, owners of Landvetter Parkering had to show that the 26-years old business was still growing because one reason...trust and user experience.

It took us less than a day to implement the features and improve the trust on our website. - Kristian, Owner
Solution
Company used ReadyCMS not as a core platform (because the website was already developed) but as the fast and easy way to implement new features and test the response.
One of the ReadyCMS's feature that stands out is the social widget which provides information about the happenings on the website.
Why use Social Proof Widget?
Social proof widgets is a proven way to increase conversions and help users trust your service more. The widget will display real time data, telling a story and showing users that there are others who are using the service and that they can rely on their choice in choosing the right and the best service for them.
How to implement social proof widget?
One of the perks of this widget is that the implementation itself is a piece of cake - but it provides so much insights to your customers.
The simplest way to install the widget on your website is by adding a simple script anywhere in your website's tag.
Preview of the widget: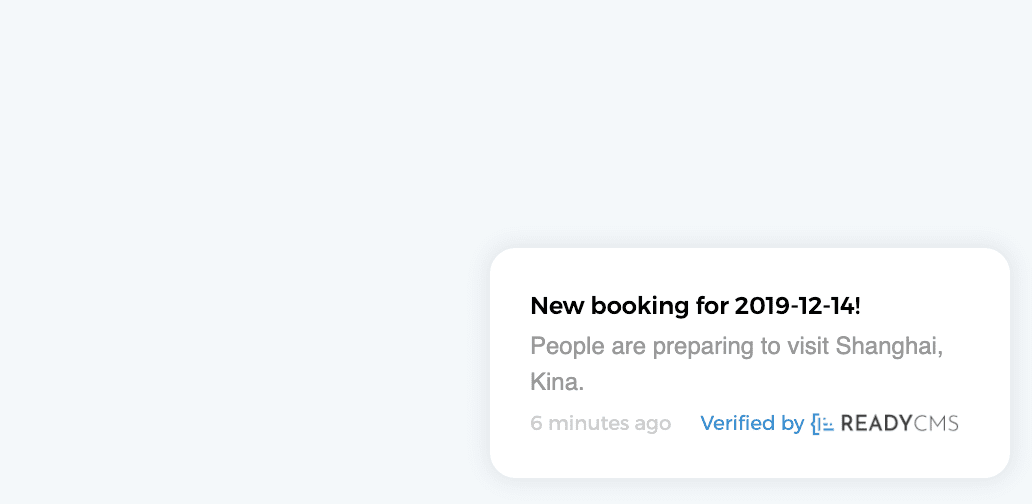 Bonus
Bonus feature Landvetter Parkering developers used was display of testimonials that showcased the quality and success of company services.
Result
Making the website content more dynamic and implementing these features, company acknowledged up to 15% of conversions boost during the 3 months prior to making this case study.